Top 10 Modular Systems of 2021!
<<Prev
Next>>
It's been quite a whirlwind of a year for the live events industry! We faced a ton of new challenges, but we were super grateful to welcome back in-person events. One of our favorite things is helping provide design elements for gatherings, whether it's for people to collaborate, to celebrate, or to just connect; we are always delighted to be a part of these important events.
You know what's fun about looking back? Seeing how far we've come! AND just how far did we come with our modular systems designs this year? We'll tell you… with a list of TOP 10 MODULAR SYSTEMS RENTALS OF 2021.
---
#10 – Circuit
Starting off at #10 we have… CIRCUIT! No surprises here – Circuit is quite a showstopper with its techie-digital-electrifying vibes.
Circuit Up Close & Personal
#9 – Chadz
Number 9 is none other than… Chadz! Chadz has donned many stages throughout the years and remains a tried-and-true favorite till this day. Did you know Chadz can be constructed as SuperWalls or SuperColumns – and is available in three finishes: white, light gray, or brushed aluminum? – AND – it can be rented from ANY of our locations, Lititz, Miami, Los Angeles, or Frankfurt.
Chadz Up Close & Personal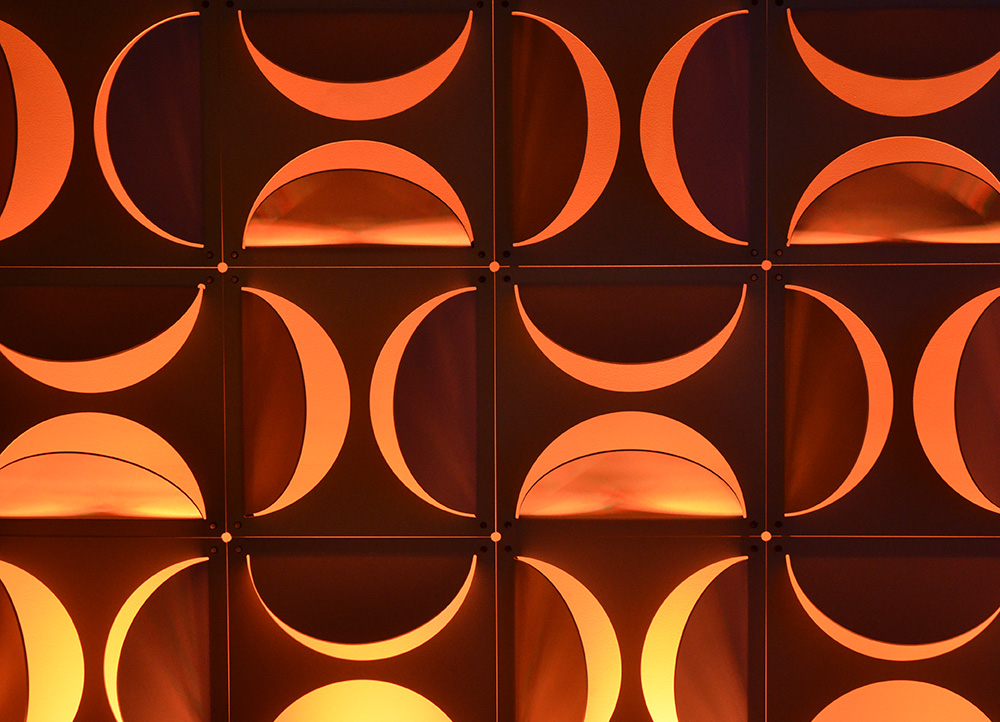 #8 – Dash
Dash-ing through the snow into #8 on our Top Products of 2021 list is… Dash (now you see what we did there 😉 )! This panel design has made a striking impression on many stages, often paying homage to its origin story of being, "dashing".
Create all sorts of varying looks with Dash by building them into walls, columns, or arches. You can even take it further and play around with front lights, back lights, and up lights – as these showy panels can do it all.
Dash Up Close & Personal
#7 – Dune
#7 spot belongs to DUNE! Dune was quite the buzzword this year thanks to ATOMIC Modular Systems (Timothée Chalamet 👀 ) and has graced many-a-stages with its curvy, sand dune-like shape.
This design hails from the FABlok family, where each design features a fabric-covered 2'x2' panel with a uniquely shaped bendable plastic insert. The plastic insert affixes inside the frame, behind the fabric, pushing the fabric forward to create exciting and enticing dimension.
Dune Up Close & Personal
#6 – Zeddit
In at #6 on our Top 10 Products, we're talking Zeddit! Zeddit wows everyone with its cool angles and flowy dimensions. In 2021, it made its way by constructing into awesome backdrops, wall separators, and free-standing columns. Zeddit is one of those panel designs that just gets it. They even play well with others – snapping together easily with our SuperLever system.
Zeddit Up Close & Personal
#5 – Udon
How Udon'? Get it? How you doin'? OK… #dadjokes aside… coming in at #5 is Udon! This strechset, assembler-pleasing scenic element does not disappoint. Thin strips of elastic fabric are packed in a handy carrying case so all you have to do is place the case below the rigging points, unzip, then stretch and twist the fabric pieces across the stage.
Add some lighting to help accentuate this one-of-a-kind, super artistic backdrop – suitable for any type of environment.
Udon Up Close & Personal
#4 – Fizz
Break out the bubbly and celebrate #4 on our Top 10 of 2021 with Fizz! Our bubbles-inspired design has made quite a few appearances over the year. They work well with other panel designs but can also hold their own when flying solo.
Fizz is part of our SuperLever family, meaning it easily snaps together with other square panels using our patented SuperLevel connector. Easily build our SuperLevel panels into columns, walls, or backdrops – and consider using our Fizz design at your next concert, commencement, gala, or trade show!
Fizz Up Close & Personal
#3 – Chiclet
Our Top 10 Modular Systems of 2021 continues with our #3 most-rented design….. Chiclet! This OG panel keeps up with the best of 'em with its geometric awesomeness and the ability to look great in any lighting. Chiclet panels will make a great design element for one of your events in 2022!
Chiclet Up Close & Personal
#2 – Pyramid
And in at #2 is… Pyramid! Like its predecessors in Ancient Egypt… our Pyramid modular system panels are complete and utter showstoppers. These works of art take on light so well and add such amazing depth and dimension wherever they go.
Pyramid Up Close & Personal
#1 – OM
DRUMROLL PLEASE….. coming in at #1 on our TOP 10 MODULAR SYSTEM RENTALS OF 2021 is… OM! This isn't too shocking because this versatile design straddles modern and traditional vibes – making it a desirable choice for a range of scenarios. Strike your favorite yoga pose and say it with us now, "ommmmmmmm".
OM Up Close & Personal
---
We hope you enjoyed our Top 10 Most-Rented Modular Systems of 2021! Wishing you and yours a Happy New Year! 2022 is going to be out-of-this-world. 🚀
Back To Blog